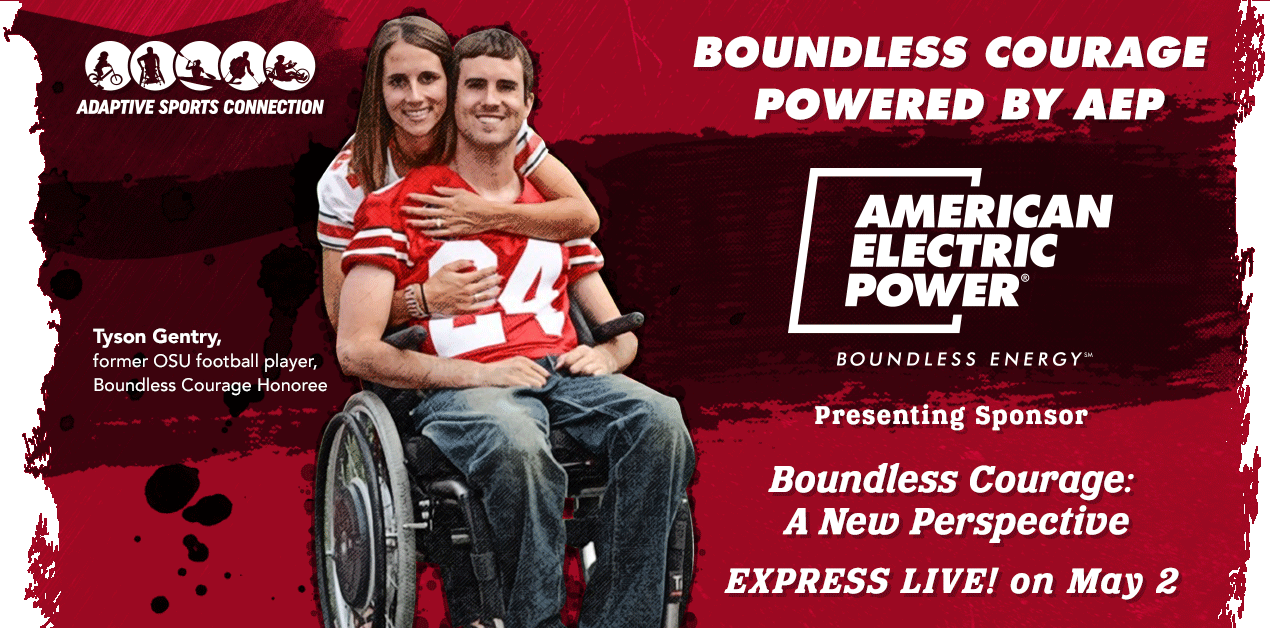 Be part of this Epic Event!
WHEN: Saturday, May 2, 2020 from 6:00 PM – 9:30 PM (VIP Hour 5:00 PM - 6:00 PM)
WHERE: EXPRESS LIVE! | 405 Neil Avenue, Columbus, Ohio
HOST CO-CHAIRS: Dr. Phil and Jane Taylor
WHY: To benefit Adaptive Sports Connection, an organization impacting the health and wellbeing of thousands of veterans, children, and adults with disabilities throughout Ohio. Whether from a war injury, cancer, Parkinson's, stroke, amputation, spinal cord injury, birth defect, autism, Down's syndrome, traumatic brain injury, PTSD, or other challenges – we help people focus on their ABILITIES.
This focus leads to improved health, employment opportunities, productivity, mental health, and feelings of inclusion.
ATTIRE: Smart Casual
PARKING: Complimentary
CATERING: Provided by Jonathan Goldsmith owner of Recipe Express Catering
ADDITIONAL DETAILS:
This high-energy event features culinary tailgate stations, drinks, interactive concert, dancing, live/silent auction and Derby surprises - all to benefit Adaptive Sports Connection whose mission is to empower veterans, adults, and children with disabilities through sports and therapeutic recreation.
Join former OSU player and honoree Tyson Gentry and fellow Buckeye teammates, British Open Winner Ben Curtis, veterans, and special guests!
Entertainment by The Navigators, led by Joe Hamrock, CEO of NiSource, Luc Reynaud, singer/songwriter and founder of The Goodness Tour who recently opened for two-time Grammy winner Jason Mraz, Humble G Tha Fiddla, and international muralist and founder of The Goodness Tour Benjamin Swatez.
Sponsorship Opportunities
Corporate sponsorship packages start at $1,000.
To get involved or for sponsorship, please call Sharon Schreiber at (630) 945-1787 or email sharon@adaptivesportsconnection.org
Join our presenting sponsor American Electric Power and become a Boundless Courage event sponsor as a company or individual.
The Woody Special Sponsors
Boundless Courage Honoree
Watch this amazing film clip with Tyson, Kurt Coleman, NFL player for Carolina Panthers and former OSU coach Jim Tressel. This is the true meaning of Boundless Courage: A New Perspective. This is a story of resilience, grace and forgiveness. Tyson will be sharing his complete story at the event on May 2, with support from his friends. Stay tuned...
Headliner - The Navigators
They don't play often, but when they do it's for a cause. Since their formation in 2003, The Navigators have benefited many local charities through their performances. The 13-piece Columbus-based band is comprised of current and former executives, a tax attorney and an optometrist. Having played with groups from Jefferson Airplane to Jimmy Buffet, band members have a wide array of experience as professional musicians and they sure can rock!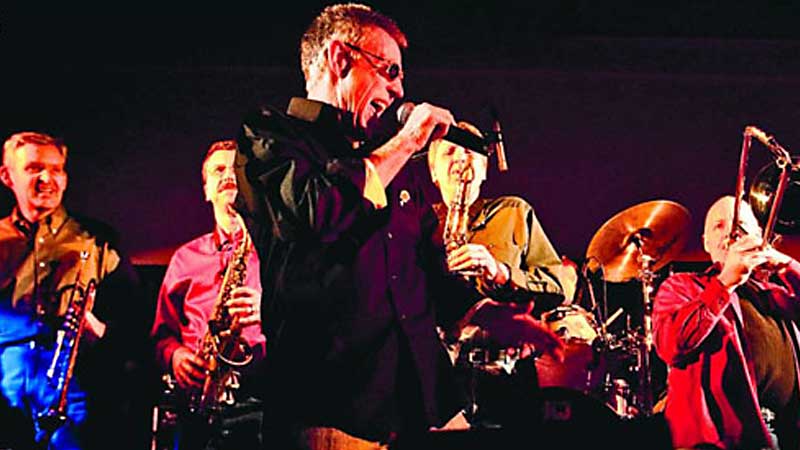 Luc Reynaud, singer, song writer, speaker, and founder of The Goodness Tour, along with Benjamin Swatez, international muralist, will be singing, painting and sharing their courageous stories from the front-line after 3 major hurricanes. After Hurricane Katrina, Luc wrote a song with the children in the shelters that captured the attention of two-time Grammy winner Jason Mraz. Luc and Jason have performed together to benefit nonprofit organizations. And most recently, Luc and Benjamin are providing psychosocial support to children and adults devastated by Hurricane Dorian in the Bahamas. You don't want to miss these talented artists!
Welcome to My House was filmed in refugee camps and produced by Jason Mraz. Enjoy the preview.
Back for his second Boundless Courage appearance is Humble G! Coined the R.S.V.P (Rapper, Singer, VIOLINIST, Producer) of Music, Humble is making his breakthrough as an international musical phenomenon with his unique integration of classical violin strings fused with rhythms & sounds off all genres to create an electrifying musical experience. The result is a vibrational feeeel-good shift that rings with fresh innovation. Experience the magic of the Fiddla as he takes you on a journey through everything from a Ho Down to AfroBeats, EDM to Hip-Hop & the most original composition from a Violin Virtuoso!
"I make music to connect in a way that feels Universal" – HG
Watch these inspiring videos to learn more about the impact of Adaptive Sports Connection, a leading chapter of Disabled Sports USA and Warfighter Sports – serving thousands of veterans, children, and adults with disabilities across Buckeye Nation.
Boundless Courage Hall of Fame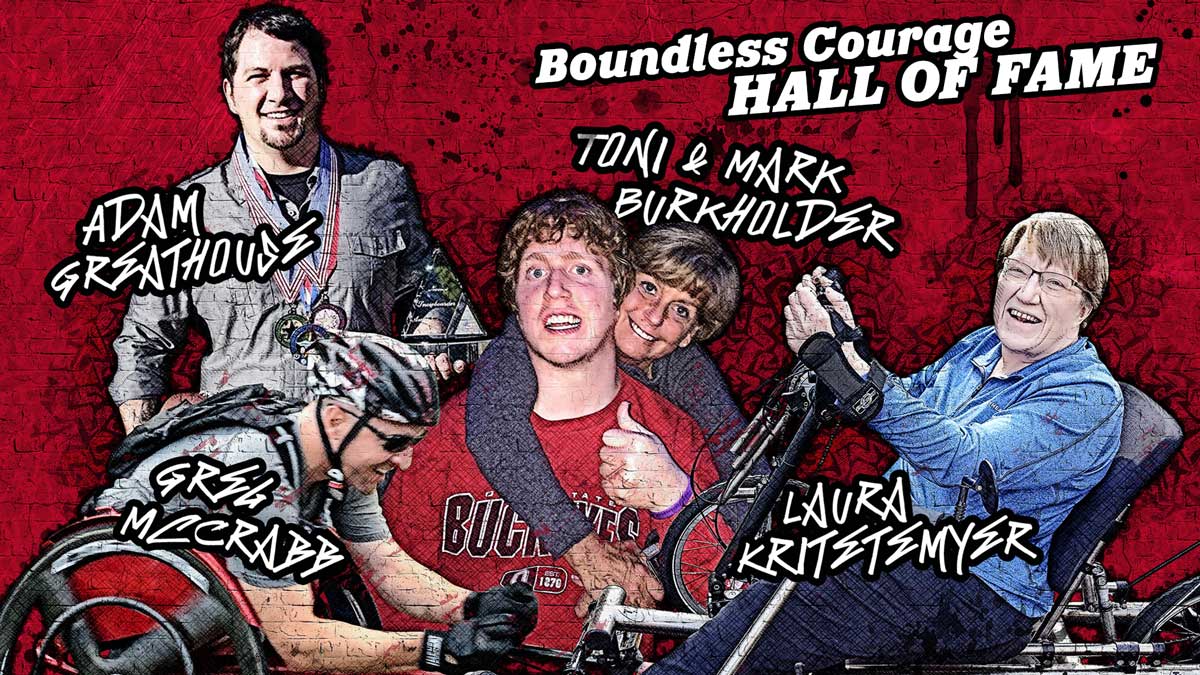 At last year's event, Toni and Mark, Greg, Laura and Adam shared their stories of courage, hope, perseverance, and resilience. This year we honor them as part of our inaugural Boundless Courage Hall of Famers.
Adam Greathouse, wounded warrior U.S. Army
Adam was serving in the U.S. Army. He was deployed in Kosovo when exposure to toxic chemicals caused a bacterial infection in his lungs that sent him into acute respiratory distress and led to a traumatic brain injury from lack of oxygen.
Toni Burkholder/Mark Burkholder
Toni Burkholder is a community leader and advocate for people with traumatic brain injuries(TBI). Her son Mark suffered a TBI after falling while riding a long board. Mark was in a coma for one month, rehab for 5 more months and outpatient rehab for 2 years. He had to learn how to breathe, swallow, eat, talk, walk, and try to remember where he was and what he was doing every day. Mark was avid lacrosse player before the accident, today he has learned to adapt to his "new normal" with Toni and his family walking alongside every step of the way.
Greg McCrabb, adaptive athlete with a spinal cord injury
Greg McCrabb and his wife Susan and their family live in Dublin, Ohio. On March 30, 2017, Greg was skiing with his family and their friends the Davies in Telluride when he experienced a life-changing injury to his spine. The injury paralyzed him from the waist down. Greg is the Director, Central Region Partner at MicroStrategy. He is also a motivational speaker and supporter of spinal cord injury research. Anyone who knows Greg, will tell you he is an amazing man with great strength inside and out. Greg understand what it means to adapt.
Laura Krietemeyer, MD was a practicing neurologist and former faculty at The Ohio State University. In a twist of fate, the physician became the patient. A Neurologist is a physician who diagnoses, treats, and manages disorders, disease, and injuries to the nervous system. This includes such areas as the brain, spinal cord, nerves and muscles. Laura has a progressive neurological condition, as well as cancer that led to an amputation. Laura has to adapt each and every day. But, she still volunteers and participates with Adaptive Sport Connection and is an avid adaptive kayaker and cyclist. She is an inspiration to all she meets.
Ben Curtis, British Open Winner
Ben solidified his place in the history books in 2003 when he won the British Open, becoming the first golfer since Francis Ouimet in 1913 to win in his major championship debut. Playing golf has presented a lot of opportunities to Ben, including the establishment of the Ben Curtis Family Foundation, an organization that helps feed over 1,000 families a week in Kent, Ohio. In addition, Ben and his wife, Candace, have their own wine label, Fairways & Vines, which represents a growing passion of theirs.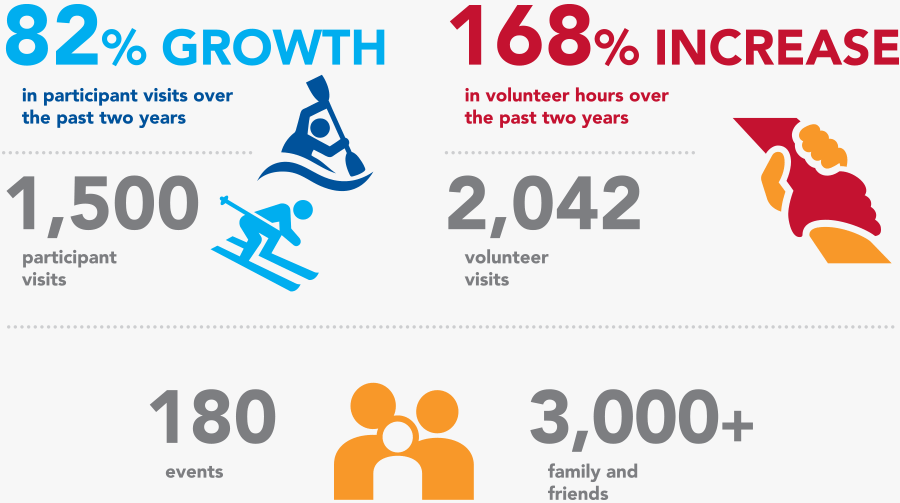 When you support Adaptive Sports Connection, you help us serve all our partners!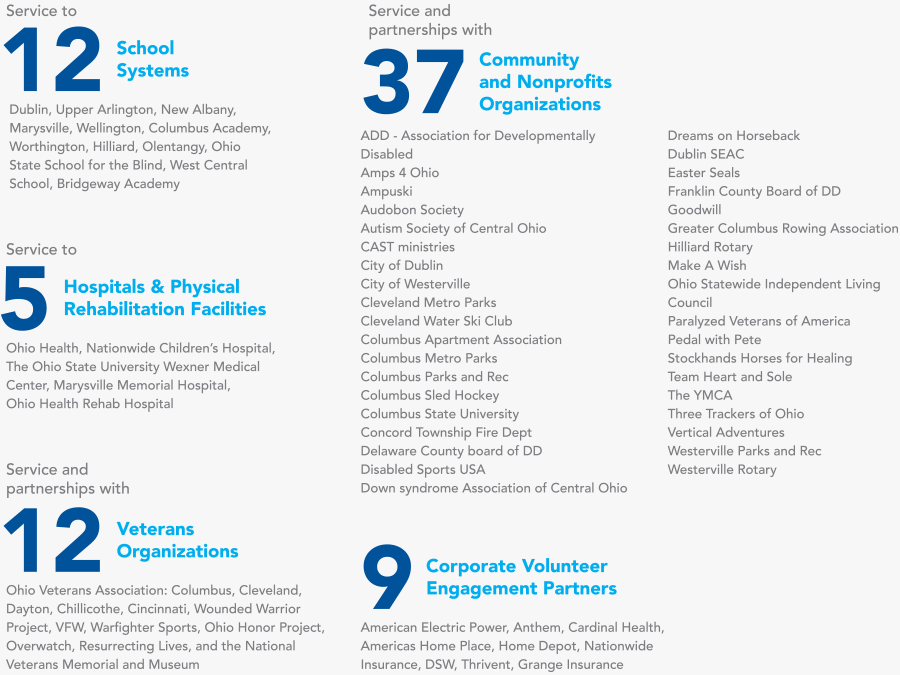 Adaptive Sports Connection is serving Buckeye Nation! We are reaching veterans, adults, and children with disabilities across Ohio!