Go Baby Go Powered Mobility Program
Through exploration and play, infants, toddlers, and young children interact with their environment and fellow peers and, in doing so, take in a vast amount of information about the world around them.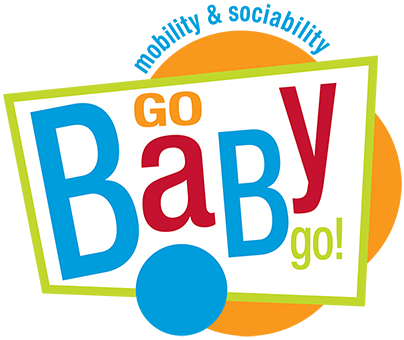 What will my child learn through power mobility?
Who would benefit from this Go Baby Go experience?
Steps for the Go Baby Go Program
Currently NOT accepting applications
Complete Go Baby Go Application and send it to Adaptive Sports Connection.
If you have not already, please download, complete, and return the Go Baby Go Application Form and Adaptive Sports Connection Liability Waiver. The application form must be completed by a treating therapist.
Forms can be submitted either electronically to us or mail to Adaptive Sports Connection, 6000 Harriott Rd Powell OH 43065. prior to your evaluation date.
Steps for the Go Baby Go Program
Complete a Free Car Evaluation with a Trained Evaluator
Your trained evaluator will obtain the necessary measurements and help you pick out the best Go Baby Go option for your child with the appropriate adaptive accessories to make it fun and safe.
Evaluations take roughly half an hour and take place at the Adaptive Sports Connection Adventure Center (6000 Harriott Dr, Powell OH, 43065).  Talk to your treating therapist or sign up for your evaluation with one of Adaptive Sports Connections trained evaluators by emailing us (not currently accepting applications.)
Register for the Free Car Evaluation with a Trained Evaluator
The evaluation time slots are available to individuals who have completed Step One of the Go Baby Go Application Process. You should have received an email from Adaptive Sports Connection asking you to register for an evaluation to complete Step Two of the process.
Time: Evaluation appointments available in half-hour time slots.
Steps for the Go Baby Go Program
Secure funding to purchase your Go Baby Go Car.
At the Adaptive Sports Connection we want everyone who could benefit from a Go Baby Go Car, regardless of circumstances, to be able to receive their own customized Go Baby Go Car. There are two ways to fund your new car.
There are two ways to fund your Go Baby Go Car.
Adaptive Sports Connection participates in fundraising activities throughout the year to benefit the Go Baby Go Fund.
Requests are placed on the Funding Request list based on the order they are received. As funds become available they are distributed to drivers based on date of the request and amount of funding raised by family and friends.
No cars can be ordered until they are fully funded. You will be notified once your car is funded and has been ordered.
Steps for the Go Baby Go Program
Schedule a time for your final fitting and RECEIVE YOUR NEW CAR!
Your final fitting will be as soon as 1 month after your evaluation. You will receive your Go Baby Go car, safety guidelines, instructions on how to care for your car, where and how to obtain free maintenance and how to donate your car back to Adaptive Sports Connection should you outgrow your current model.