We are excited that you are interested in volunteers for our adaptive alpine skiing program.
Adaptive skiing provides adults, veterans, and children with disabilities the opportunity to experience downhill skiing or snowboarding. As a volunteer, you are helping them increase their emotional and physical wellbeing, achieve a sense of independence and accomplishment, and most of all have fun!
We can also guarantee that you will have fun on the hill, as you watch lives being transformed! Whether you are looking to be a skiing or a non-skiing volunteer, this is a great way to unleash the power of giving back.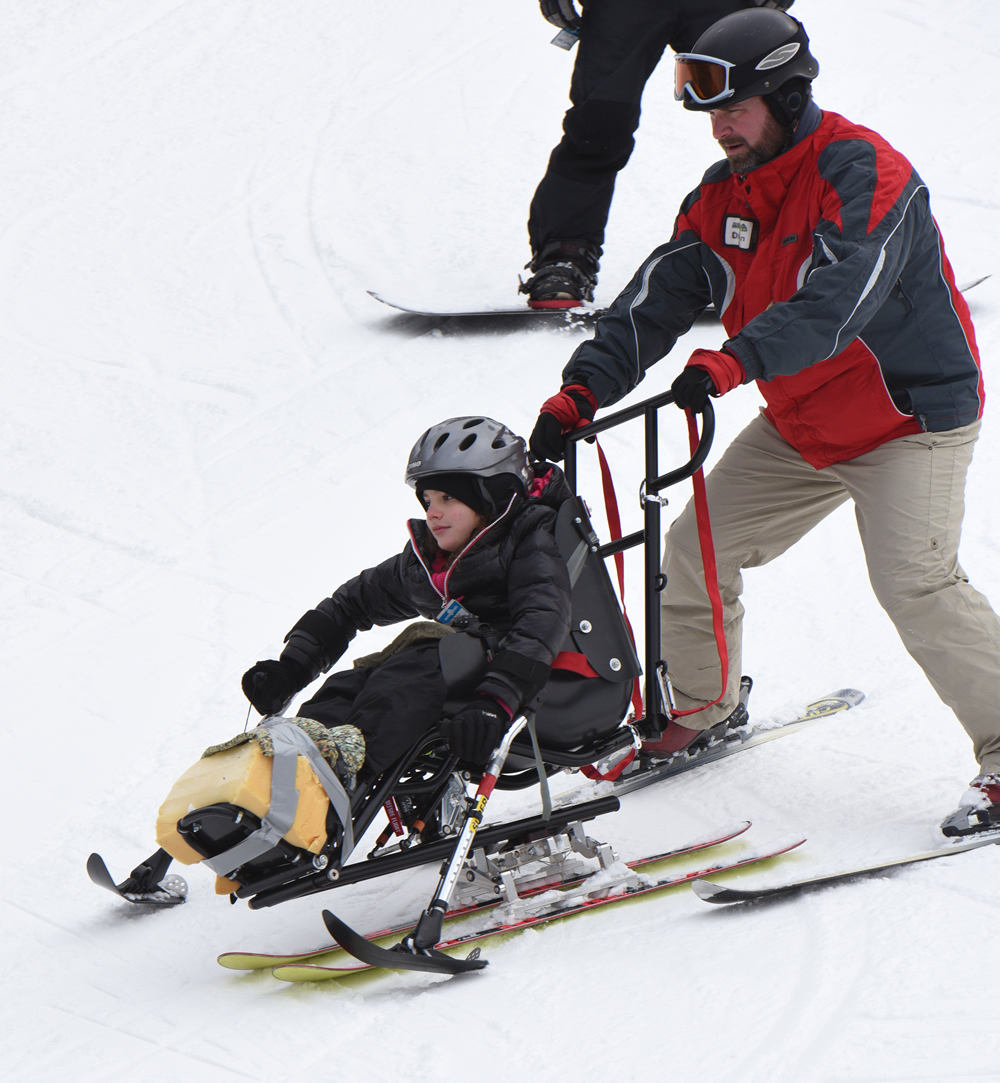 Skiing Volunteer Training

Skiers of all experience levels welcome!
No previous adaptive skiing experience necessary. All equipment provided.

All volunteers are highly encouraged to come to the training sessions listed below. These sessions will give you the tools you need to assist people with disabilities and will make you a more useful volunteer. However, if you cannot make it, we can provide on the job training on event days. Please email info@taasc.org if you are unable to attend any training sessions. Thank you again for volunteering.
Registration Process

During the registration process, volunteers will be asked to create an account. This will allow us to communicate upcoming events, special events, last minute cancellations, or venue changes. If you have any questions, please contact info@taasc.org.
Dry Land Volunteer Training
December 5 & 7, 6:30-8:00pm at Adaptive Sports Connection Adventure Center (6000 Harriott Dr, Powell OH 43065) 

These sessions are required for new volunteers, and strongly encouraged for returning volunteers. We will cover a basic overview of Adaptive Sports Connection programs and policies, an overview of the ski program, and will cover topics related to teaching adaptive skiers and snowboarders.
On Hill Volunteer Training
December 16, 9:00am - 3:00pm at Snow Trails Resort

Session availability is weather dependent. All volunteers are encouraged to attend this session. Volunteers will be broken up to into groups based on skiing ability and adaptive discipline interest. Each group will work with an instructor to go through a basic ski progression and to learn what a typical Adaptive Sports Connection lesson is like. New skiers will work to improve their personal skiing skills with an instructor. All equipment is provided for this session.