Albert Einstein might have said it best – Life is like riding a bicycle. To keep your balance, you must keep moving.
At Adaptive Sports Connection, we are striving to help children and adults with disabilities be able to bike when and where they want.
Cycling is a great way to enjoy the outdoors, improve cardiovascular fitness, and socialize with friends and family – now with advanced technology in adaptive equipment everyone can participate.
Our cycling program is growing – from teaching children with special needs to learn how to ride a bike, to adaptive cycling outings, to team riding – we want you to be able to Ride On.
We also provide cycling clinics at local schools for adaptive physical education classes. We are currently working with Dublin City Schools, Upper Arlington City Schools, Worthington City Schools, Olentangy Local School District, and Hilliard City Schools.
We do charge a small fee for bike rentals and programs, however we will not turn away anyone if they are unable to pay. Our goal is to give everyone with disabilities access to cycling.
For more information on our cycling programs contact maddie@adaptivesportsconnection.org.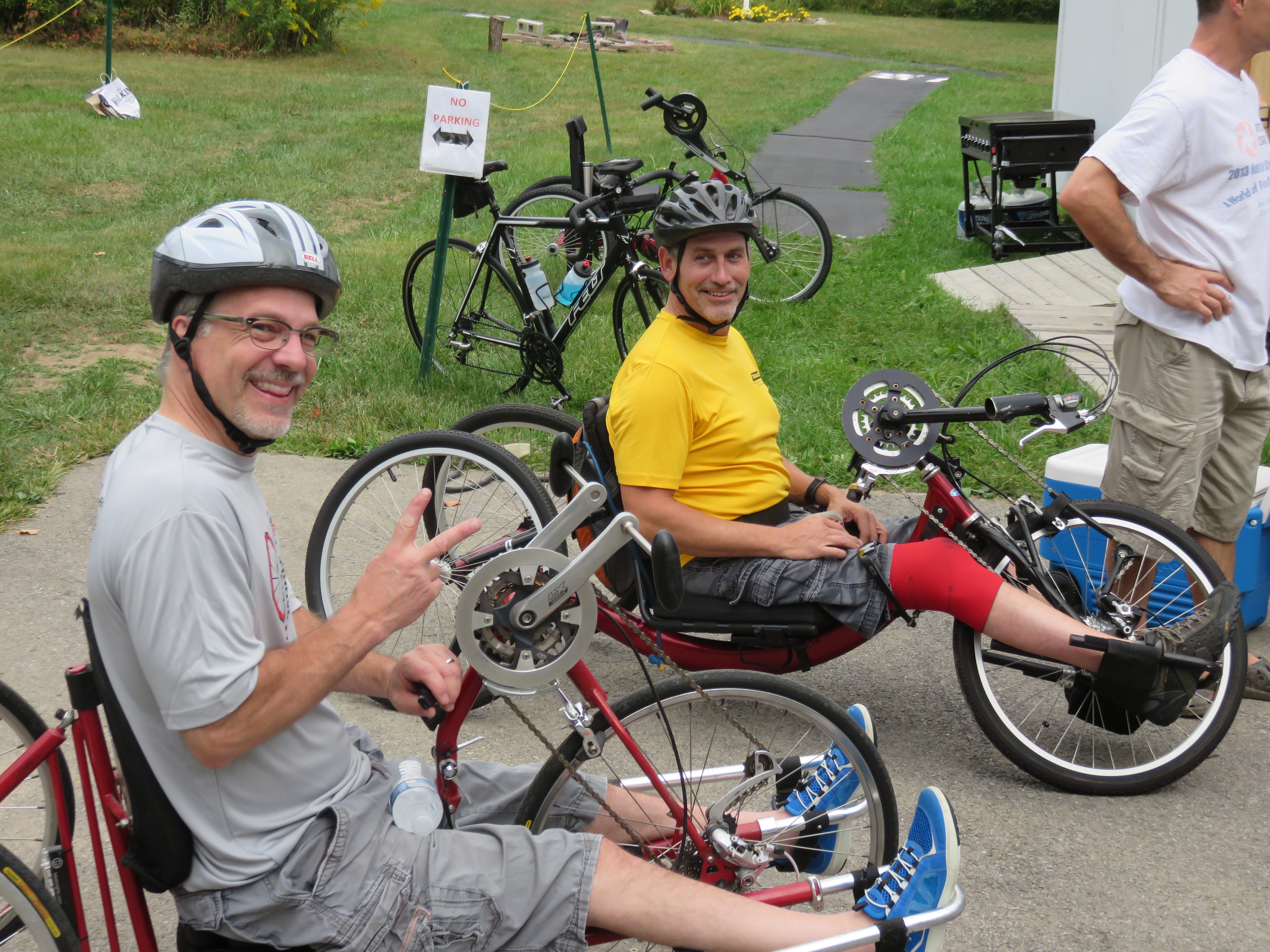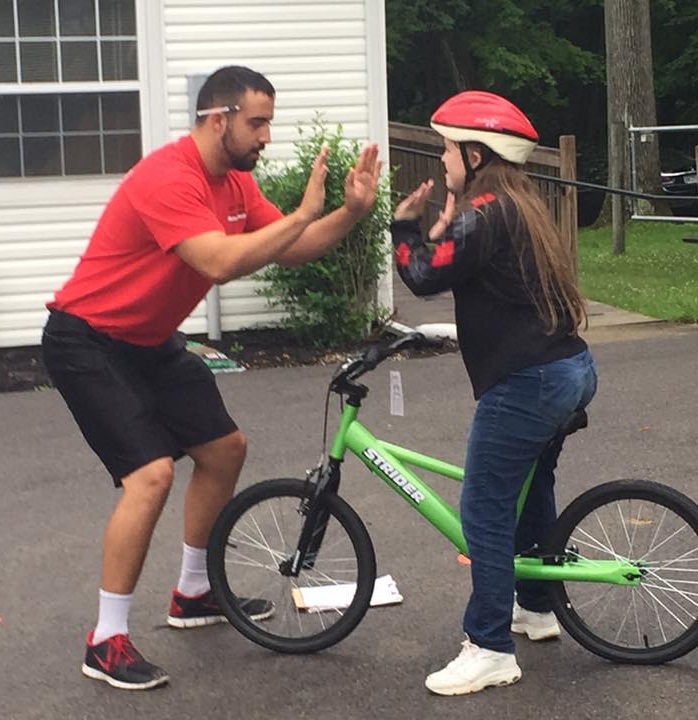 Adaptive aspects include:
Handcycles for individuals with no or limited leg movement
Three and four wheel cycles for those who need more stability
Children's hand and foot powered cycles
Tandem cycles for individuals who want a guide while riding
Hand and foot cranked cycles exercising your whole body
Standard cycles
SAFETY FIRST! Adaptive Sports Connection always requires participants to wear a helmet.
Adaptive Cycling Your Way
When it comes to adaptive cycling, Adaptive Sports Connection has several options and programs to accommodate your needs. We have a fleet of Strider bikes for special needs and AMBUCS AMTrykes.
Option 1: Rent one of our many adaptive cycles for a week at a time from the Adaptive Sports Connection Adventure Center.
Fee: $50.00/week; $100.00/month
Contact maddie@adaptivesportsconnection.org to schedule.
Option 2: We will help you purchase your own bike through our distribution partner – AMBUCS Am Trykes.
We have numerous corporate, individual, and community sponsors if you are unable to afford a bike.
Contact maddie@adaptivesportsconnection.org for more information.
More options and information coming soon.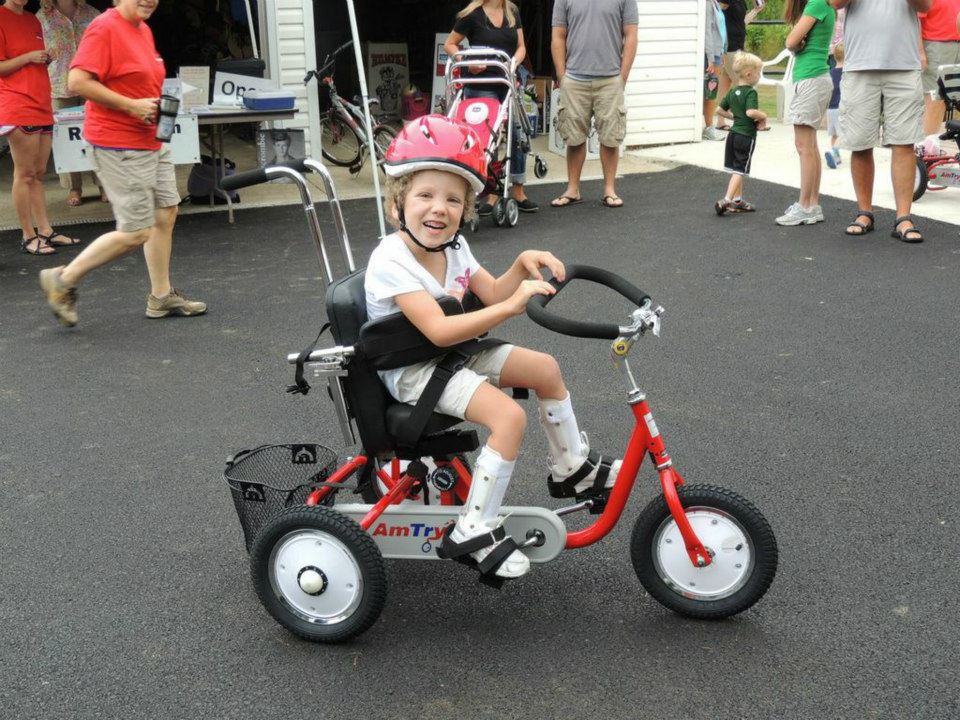 Distance riders are encouraged to participate in community biking events – if you don't have a bike we can arrange for you to get one.
So, if you are interested in training as a group we can help.
Any questions, please email maddie@taasc.org.
Glacier Ridge Community Bike Rides

Aug 19
08/19/2017
Register
Getting Started with Cycling
The first step in our cycling program is to schedule an ability assessment and fittings. This evaluation takes about an hour with one of our Adaptive Instructors. Once the right type of equipment is determined, we will work with you to meet your individual needs. Evaluations to find the right adaptive cycle for you can be scheduled any time throughout the year. Please email maddie@taasc.org.
There is no fee for an evaluation.