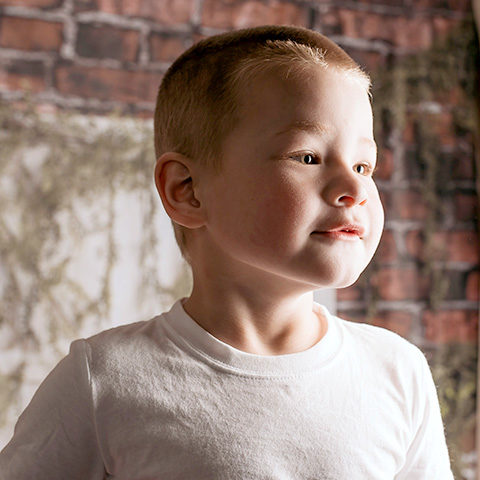 "Sam is excited to be able to ride his very own bike on our family bike rides."
Samuel S., 4, Marysville
Autism
Sam is the most loving little boy. He is non-verbal, but he knows exactly how to show you his love. We like going on bike rides. Sam usually rides in a bike wagon behind my bike. He loves riding these bikes during therapy and he is always trying to get on his sister's bike, but he can't keep his feet on the pedals. Sam is also a runner, so this bike will keep him safe, help him physically, and he will love it.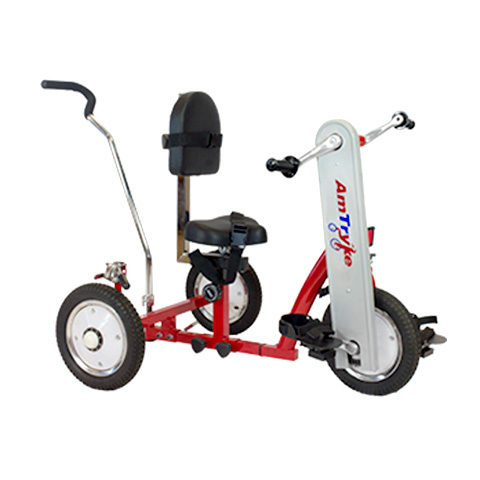 "We just want Wyatt to be able to be included in our family outings."
Ava H., 12, Columbus
Cerebral Palsy
Ava was born weighing 2 lbs 9 oz and has been beating the odds since day one! She was born with Cerebral Palsy and hearing loss and many doctors told her mom that she would never walk or talk. However, Ava has proved them all wrong in doing as much as possible including walking, talking and playing many sports!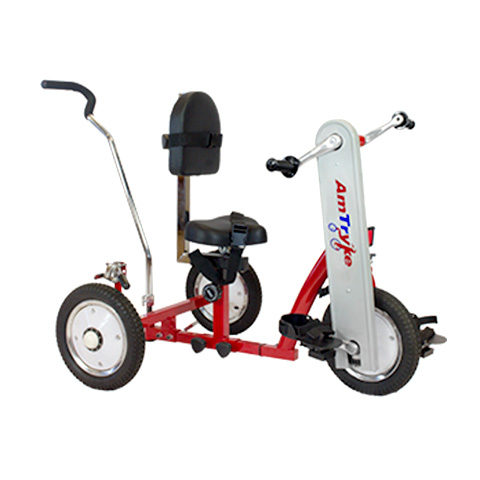 "We are excited for Jackie to get the chance to ride bikes with other kids her age."
Jacqueline C., 6, Bexley
Spinal Muscular Atrophy, Type 1
Ava was born weighing 2 lbs 9 oz and has been beating the odds since day one! She was born with Cerebral Palsy and hearing loss and many doctors told her mom that she would never walk or talk. However, Ava has proved them all wrong in doing as much as possible including walking, talking and playing many sports!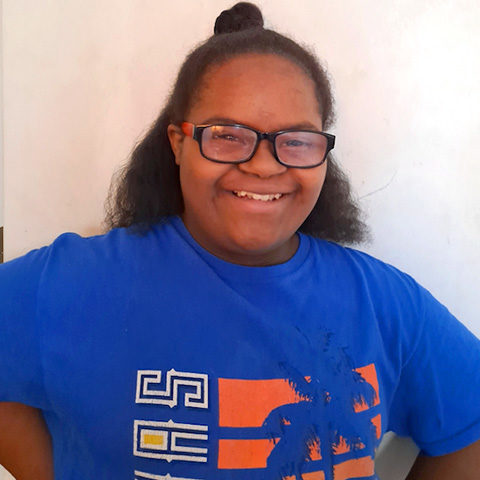 "I can't wait for Maggie to have her own bike!"
Maggie D., 15, Columbus
Down Syndrome
Maggie has loved riding the bike at therapy and will benefit from being able to ride a bike at home to increase her activity level!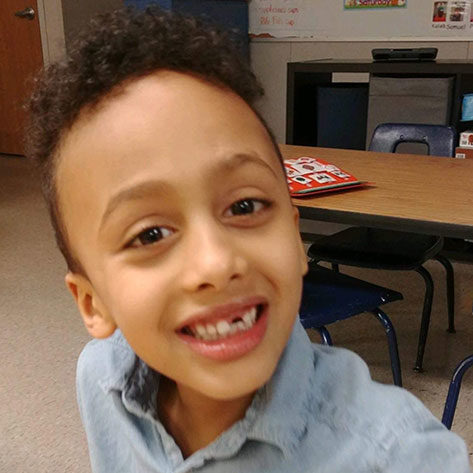 "We want him to be able to enjoying riding a bike like other kids his age."
Ilyas S., 8, Pickerington
Autism
Ilyas has tried a 2 wheel bike in the past, but was not successful. This new bike would be amazing because it would allow him to be like every other child. He would be happy riding a bike, knowing he is not different from other children. He will enjoy riding a bike because it will be a fun and healthy way for him to be active and a part of a community.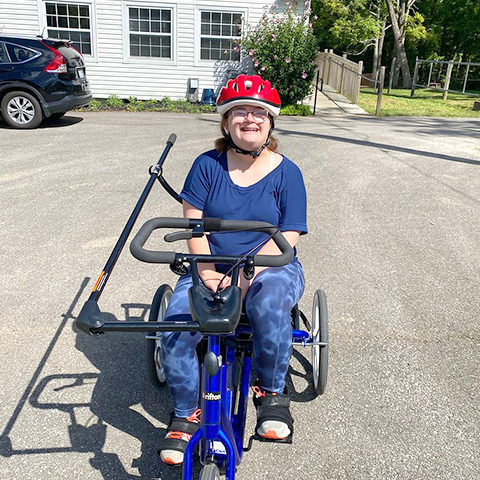 "I want to be able to ride my bike with my dad."
Marcy V., 21, Galena
Down Syndrome
Marcy loves to watch her dad ride his bike, but is not able to coordinate, because she is too small. Having her own bike will give her some freedom as well as some exercise.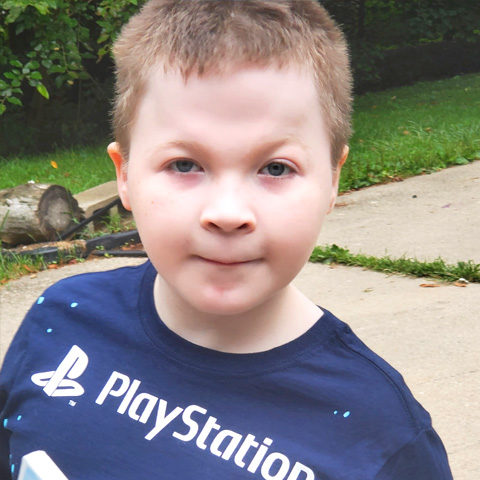 "A bike would give Ryan the chance to play and be active with his other siblings."
Ryan E., 10, Howard
Autism and Global Development Delay
Ryan came to us as a foster child when he was 18 months old. He was diagnosed with non-verbal autism by the age of 3, and then we adopted him when he was 4 yrs old in December of 2015. Ryan is an amazing kid! He loves to be on his I-pad and play with legos, as well as Mario on Nintendo Switch. Ryan is in the 4th grade and uses his talking tablet to communicate with teachers in class. He is a great speller and gets A's in all his classes. Ryan loves to be outside and explore and especially loves camping with friends and family. Ryan really wants to ride a bike but his balance doesn't allow him to ride a standard bike. We are hoping to get this adaptive bike for Ryan so he can ride bikes with his siblings.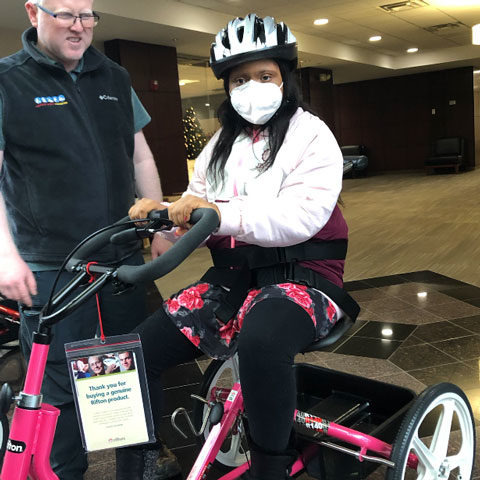 "She loves to peddle and ride and after lots of hard work has finally got it down!"
Aamaris T., 17, Columbus
Down Syndrome
Aamaris is a 17-year-old female who has longed to go bike riding. She has been working with Nationwide Children's Hospital to learn how to ride a bike for the last 3 to 4 years and would be so excited to have her very own bike!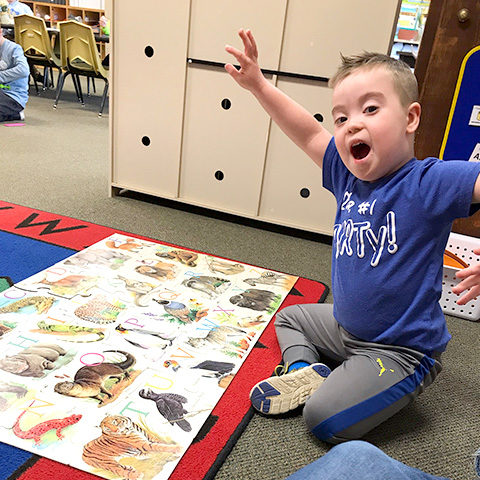 "Reece will be so excited to have his own bike!"
Reece M., 6, Kenton
Down Syndrome
Reece has outgrown the standard size tricycle but is not independent enough for a bike that's typically marketed towards his age. He uses a bike in therapy that we feel would benefit him for a longer term goal achievable.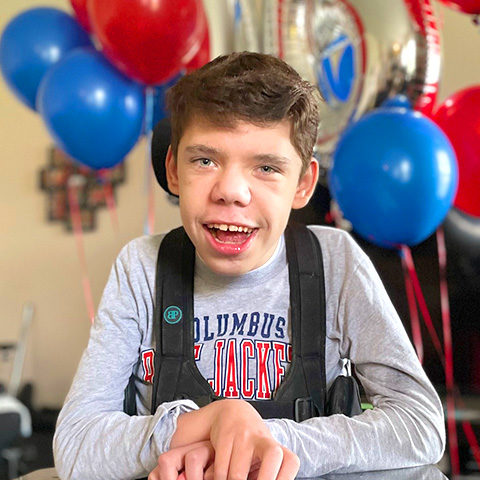 "The day I get to ride a bike again will be the best day ever!"
Nathan R., 16, Canal Winchester
Cerebral Palsy, Epilepsy, Polymicrogyria
Nathan loves to be outside and play. He's recovering from hip surgery and uses his bike to regain strength in his legs. He's unable to maneuver his wheelchair with his hands but loves to ride bikes with his friends. He has completely outgrown his current bike which sometimes now causes him pain. Being able to ride again would bring the big smile back to his face and help him play once again with friends and family.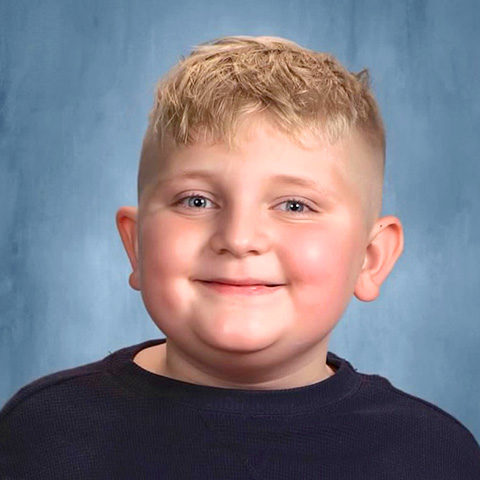 "Having a bike would be one more way he would feel like a normal child and that is a feeling we wish for Colt to have everyday!"
Colt C., 8, Morral
Autism
Cole has a heart of gold. He is the most kind hearted and inquisitive little boy! He was born with poor muscle tone and failed to meet many milestones as an infant and by age 2 he was diagnosed with Autism. He immediately started early intervention but was still non verbal until age 4. Since then he has worked so hard to overcome the many obstacles. He is the child of 4 and wants so badly to be like his older brother in every way!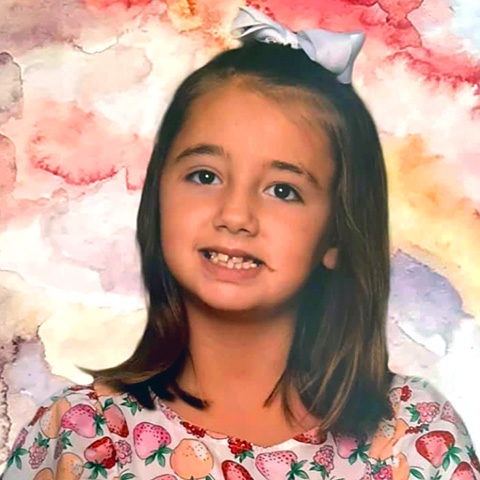 "I can't wait to ride my bike outside!"
Peyton L., 7, Washington Courthouse
Epilepsy, Hemispherotomy
Peyton is a 7 year old first grader at Miami Trace Elementary. She is a very sassy and energetic little girl who loves to ride her bike. She could really use this bike now since surgery. Having an adaptive bike will allow Peyton to continue to reach her therapy goals and be able to play along with her peers!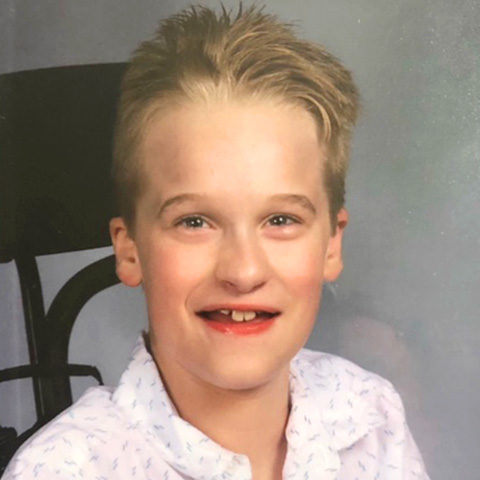 "I can't wait to get a bike that fits me!"
Elliott K., 11, Dublin
Cerebral Palsy & Leukoencephalopathy of the FUS gene
Elliott previously had a bike that was donated by a friend whose son tragically passed away. His bike has been wonderful to provide freedom and additional means of therapy. Elliott has had multiple orthopedic surgeries and the bike has been great to help with his recovery when he is not able to be weight bearing. He rides an adaptive trike. He rides at school throughout the year as part of his regular therapy program. Over the summer, we use the bike at home for him to ride around outside.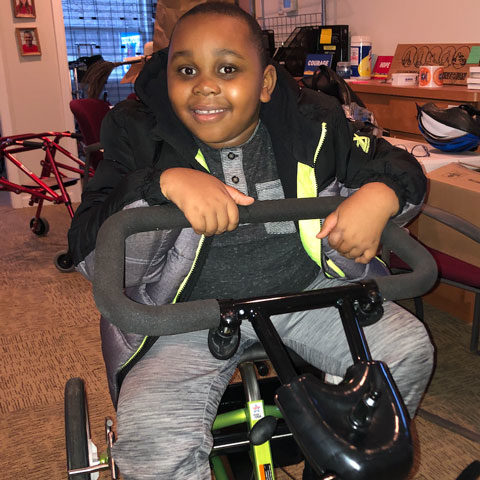 Gabriel O., 6, Columbus
Cerebral Palsy
Gabriel uses the adaptive bike in physical therapy and he really enjoys it. He loves to be outside and would benefit from having a bike to ride around.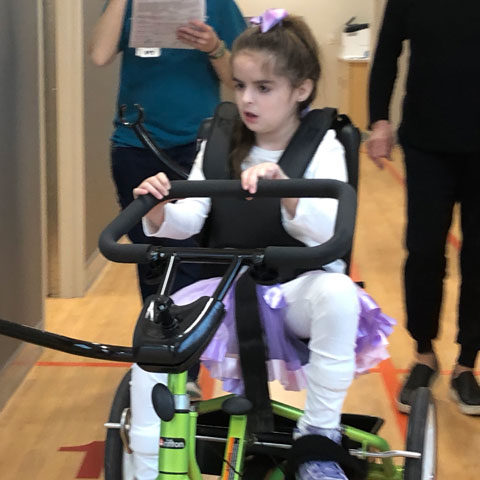 "A bike would allow Mila to do more activities with her friends!"
Mila D., 9, Kent
Jacobsen Syndrome
Mila is always on the go and loves to interact with other kids and adults. She has lots of friends in our neighborhood that she watches ride their bikes. Unfortunately, she is not able to do the same. Having her own adaptive trike will allow her to actually be more like her friends and be apart of their fun. Inclusion is extremely important to our community. We would love to have Mila included in as many 'typical' activities as possible. This would mean the world to our family.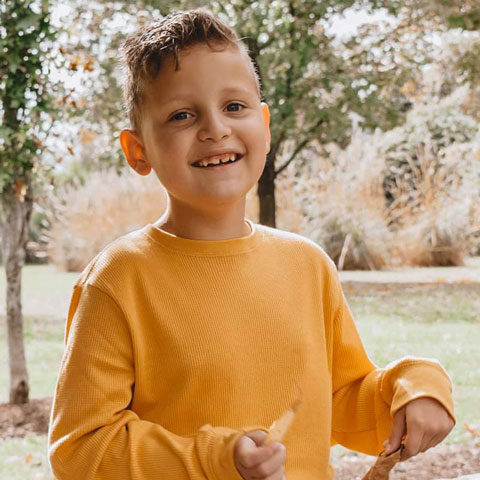 "Eli will be able to get all of his energy out on the bike!"
Eli H., 6, Hilliard
Autism
Eli is autistic, level 3, which requires the highest amount of support. He is 6 years old, and full of fun energy. He loves being outdoors, and when he sees people on bikes he screeches with excitement and laughter! He has two neurotypical older siblings who are always using the bike trail by our home, and sometimes he looks sad hoping he can go with them. We would love to give him that chance.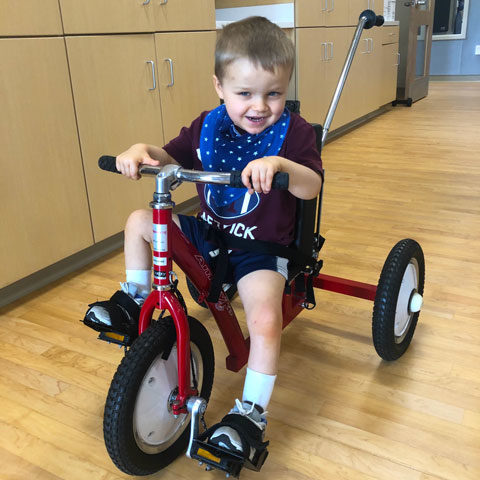 "He lit up like a Christmas tree pedaling around the track."
Lucas L., 3, Cuyahoga Falls
Spino-Cerebellar Ataxia 29
My son is Lucas L, he was diagnosed with SCA-29 at a very young age. Lucas has very low tone and is physically delayed in gross motor development. He has three older brothers and just wants to be one of the guys. He loves to get pushed around on his toys and have fun with his brothers, but it is very difficult to keep him upright on most "normal" bikes. Watching him get frustrated because he cannot enjoy everyday activities with his brothers is very heartbreaking. We were at Therapy at Akron Children's Hospital and his Therapist had an adaptive trike and let him ride it. It was a little small for him but he lit up like a Christmas tree pedaling around the track. His smile was ear to ear, and you could tell he was happy to be independently riding a bike for the first time.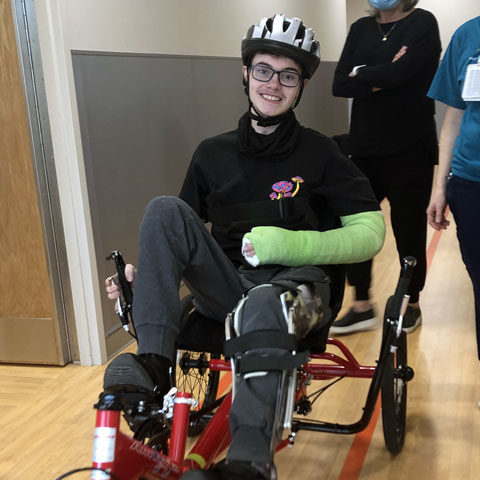 "I will have a mode of transportation other than my wheelchair!"
Levi T., 17, North Lawerance
Traumatic Brain Injury and Brain Stem Injury
He feels like he is confined to either a bed or wheelchair. He's 17 years old and used to love exploring on BMX bikes and dirt bikes before his injury. He wants to be able to go outside and do something other than be in a wheelchair. A bike would be freeing for Levi.
Spencer R-J., 4, Columbus
Caudall Regression Syndrome (Sacral Agenesis)
Spencer is an amazing 4 year old. We just learned that he uses an adapted bike at school (FCBDD) and loves it and is able to use it himself. He does not have a lot of strength in his legs to be able to use a bike, but he calls the bike there his special bike and can go and keep up with his peers. He tends to get left out and over looked a lot by peers because he is such a small guy. This would allow him to ride bikes with his friends and with his family.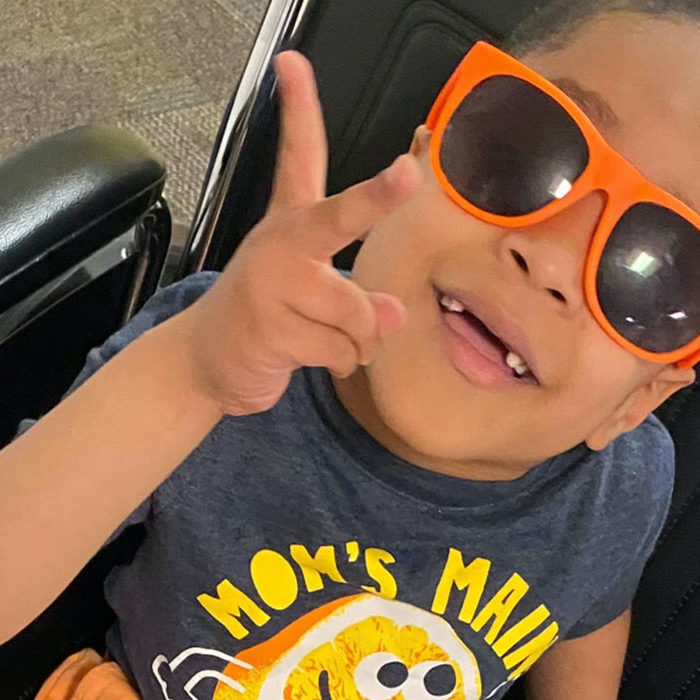 "I would be able to ride a bike all by myself!"
Jai'dyn C., 7, Columbus
Joubert Syndrome, Kidney Failure
Jai'dyn is 7 years old and has never had a bike because of his syndrome and him not having good balance. Having the bike would help him meet his therapy goals as well as being able to participate in outside activities with his little brother and not feel left out. With joubert syndrome he isn't able to walk so a lot of times anything he sees his baby brother doing he tends to cry and say that he can't do it and it just hurt our hearts because we know one day his dreams will come true and he will be able to do everything he puts his mind to. He is very smart and loving and very goofy and outgoing and I know if he is blessed with one that his whole world would turn upside down and he would be one happy kid.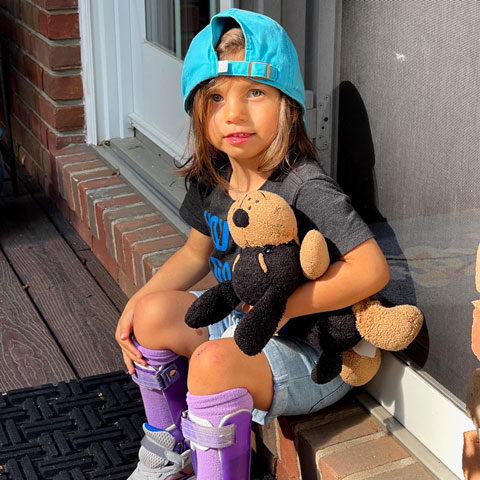 "Ellie will no longer have to sit in a trailer to go on bike rides!"
Ellie K., 3, North Canton
Cerebral Palsy, Congenital Heart Defects, Cleft Palate, Microcephaly, Premature
Ellie is a 3.5 year old who loves to be active and moving! She is an adventurer and outdoor explorer, loves taking her dog on walks, and joining her family on long bicycle rides by sitting in the trailer. We know when she wants to go on a ride when she gets her helmet on. Our family cannot wait to have her join independently on family rides!
Give the gift of health, independence, and the freedom of mobility!
For more information, please contact Sharon Schreiber, Executive Director
at sharon@adaptivesportsconnection.org or (630) 945-1787.