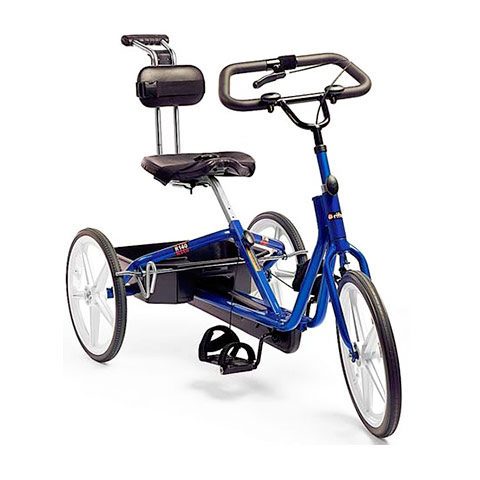 "I am so excited for adventures! I am excited till have my bike!"
Kymani G., 4, Bucyrus
TBI, Cerebral Palsy
Alvin is always a happy, go-lucky kid. He is always excited for new adventures. He would love a bike to learn to be more independent, increase socialization, and aid in therapies. He also loves to give high-fives and bubbles!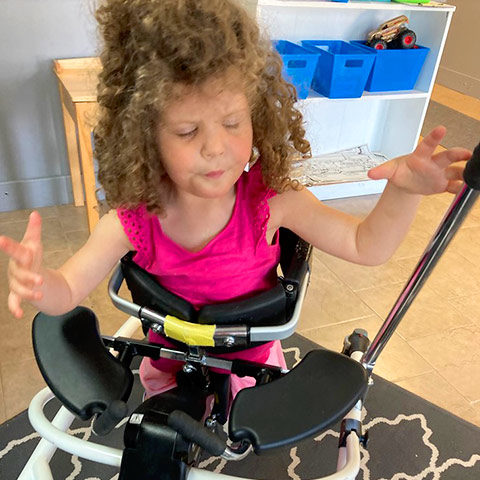 "A bike will allow her to explore outside in a safe, fun way, just like the other kids."
Juliana W., 4, Findlay
Cerebral Palsy, 1p36 Deletion Syndrome
Juliana is turning 5 this summer. We would love for her own, safe bike to be a birthday gift for her. She is very active and loves to explore the world around her, though she is not able to walk independently (yet!). A bike would allow her to explore outside in a safe, fun way, just like the other kids. Thank you for considering Juliana!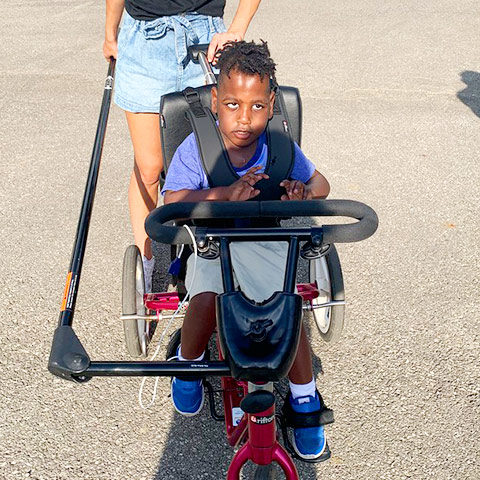 "Cycling is a new adventure to me."
Langston F., 3, Worthington
Cerebral Palsy
Little Langston has a long complex medical history. He has spent significant time in Children's Hospital. He was born at 23 weeks and he has had several brain surgeries. He's just now learning to eat and drink. He's nonverbal and can't walk but full of personality and enthusiasm.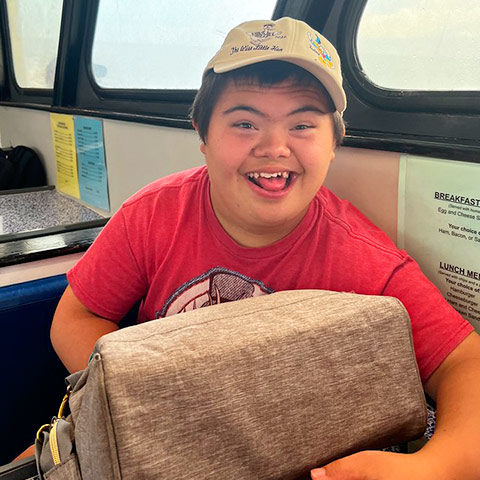 "Getting his own bike will make Justin supper happy."
Justin G., 13, Hilliard
Down Syndrome
Justin loves riding adaptive bike at his school. He gets really motivated to ride and exercise. I believe this makes him feel happy and this is the the only form of Physical Therapy outside of school that he enjoys.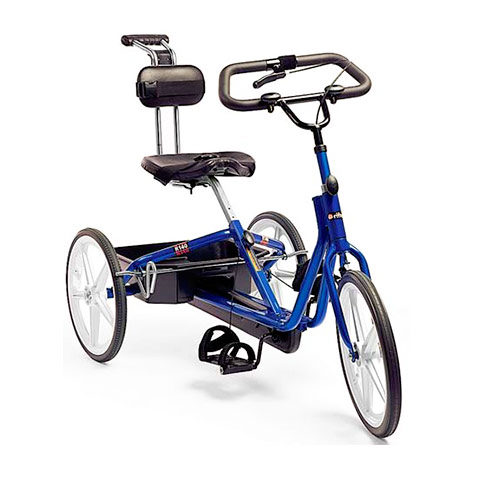 "This bike will help with her bone health and as a part of exercise."
Ella W., 15, Delaware
Carnitine Translocase Deficiency, Anoxic brain injury, Epilepsy
Ella, a 15-year-old, is an exceptional little girl. She lives at home with her older brother and mom. She likes to be out in the public and be social. She has continuing hip issues so riding a bike would be great for all her joints. It will be helpful for her bone health and a part of the exercise. We are excited and ready to go out in the world and have fun riding a bike. We currently have one that Ella has outgrown and we desperately want and need a properly fitting bike.
"An adaptive bike would mean so much to me."
Noah F., 7, Lancaster
Diplegic Cerebral Palsy
Noah loves to play outside multiple times a day! He currently rides a hoverboard with a seat attachment to go places in the neighborhood but would love a bike! He also has a love for tee ball and enjoys playing sled hockey occasionally.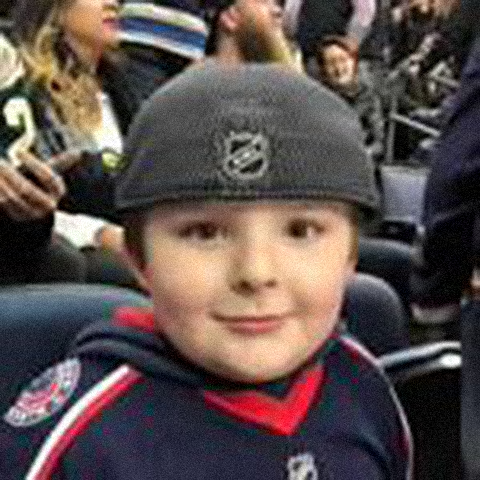 "I would love feeling the wind in my face and pushing the pedals of my very own bike."
Jacob B., 9, Marysville
Autism
Hi! My name is Jacob. I am a 9-year-old who is on the Autism spectrum. Some of my favorite activities are playing on my iPad, throwing the ball for my dogs Ellie and Finn, and watching Disney movies. I love the Columbus Blue Jackets and go to as many home games as I can. When I am there, I love to dance to the music. My parents are hoping to get me a bike so that I can continue to work on my skills to broaden my experiences. I don't have many words and struggle with new experiences but this will give me more activities to enjoy that will keep me outside and active. A new bike would be amazing!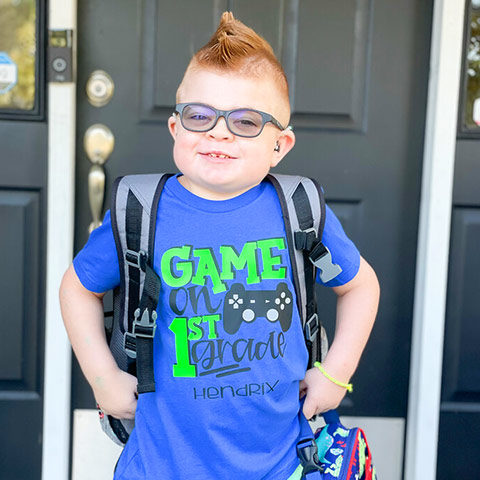 "I am excited to ride a bike with my family!"
Hendrix M., 7, Marysville
Hunter Syndrome
Hendrix would love to go for bike rides, but is unable to ride a typical bike with training wheels. Getting an adaptive bike will enable him to participate on family outings in the neighborhood as well as playing with his peers. Hendrix's favorite thing to do is play the PlayStation. He wants to be a gamer when he grows up.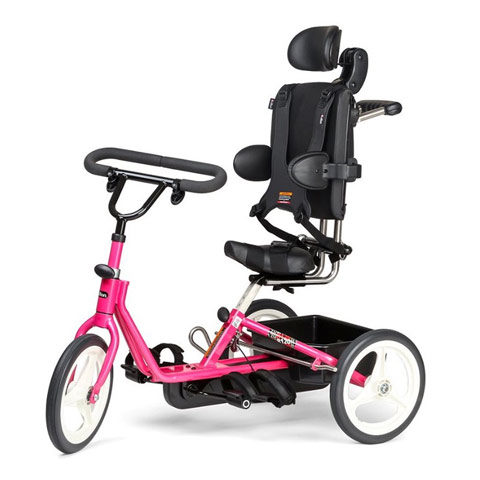 "Can't wait to go bike riding with my family!"
Zoey S., 8, Newark
Cerebral Palsy and Epilepsy
Zoey is a beautiful and smart little girl. She loves to be as independent as possible and has a huge imagination. She loves to play with dolls and swim but is limited to other outdoor activities This bike would not only benefit her life it will impact our families life on fitness and wellness.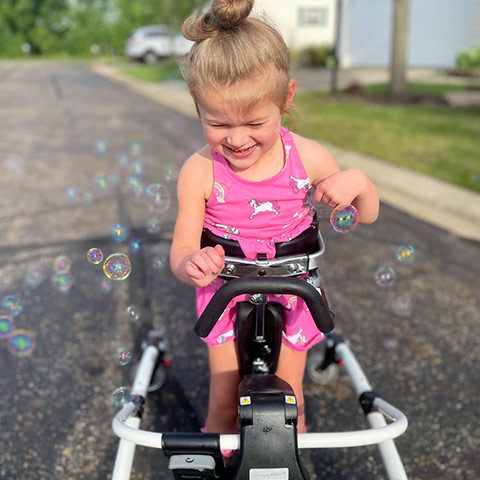 "We love seeing Chloe happy. This bike is very important to her."
Chloe S., 3, Streetsboro
TBI
Chloe was shaken at 10 weeks old by her biological father. Since then, Chloe has to watch her siblings run and play from her chair. Her spirit is never broken, she's always a ray of sunshine but an adaptive bike would give Chloe a touch of normalcy in her life.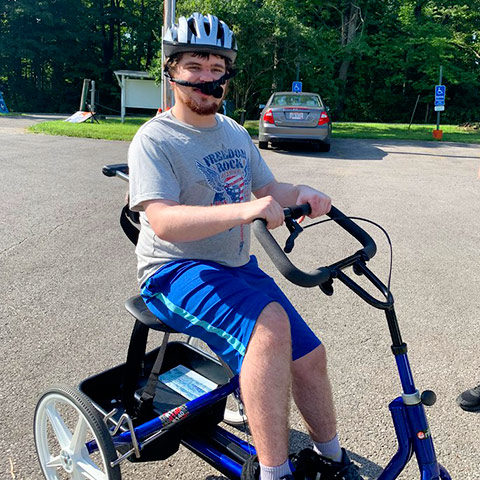 "I am excited to have a new bike!"
William S., 19, Westerville
Autism
William really enjoyed riding a bike when he was younger. He outgrew his bike and a new one would be AWESOME so he could continue to get exercise and maintain his weight.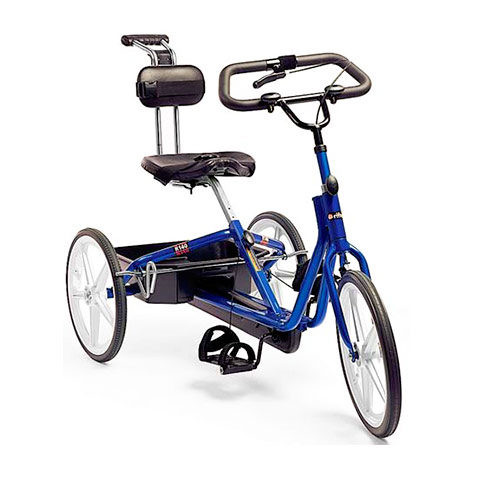 "To go bike racing with my friends…yahoo!"
Finn S., 8, Westerville
Down Syndrome
Finn loves to try new activities and playing with others! He loves to play outside and a bike would help Finn connect and play with other kids.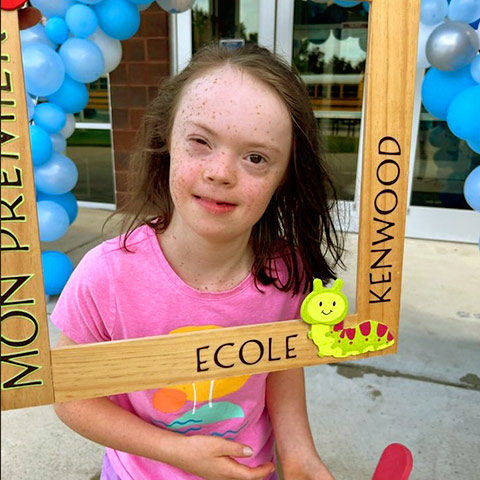 "Having a bike is a good way for her to discover new places."
Hope G., 11, Columbus
Down Syndrome
Hope loves going to the park every day and riding a tricycle around the track. She is getting too big for the tricycle and would very much enjoy an adaptive bike.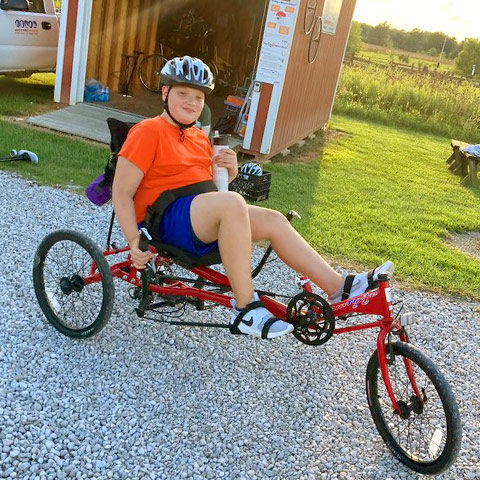 Redgy S., 10, Dublin
Autism Spectrum Disorder
Redgy is a fun-loving, adventurous 10-year-old. He loves exercising as it is one of the few ways he's able to connect with his peers. He has been trying to learn how to ride for years but hasn't quite mastered a 2-wheeled bike. If you see him out on the trail, he's every cyclist's biggest fan! He cheers for everyone going by. I'd love to get him a bike to expand the boundaries of his autonomy and hopefully help him feel like he's part of the group.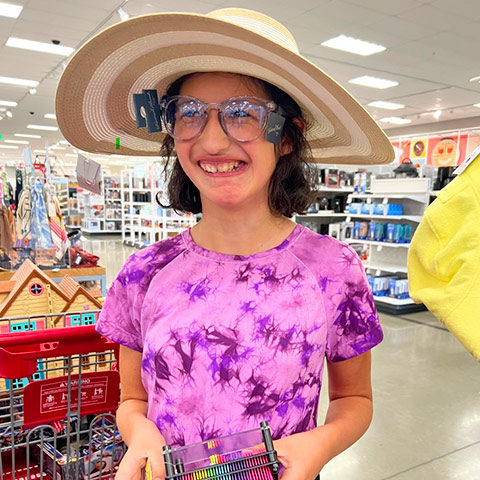 "I can't wait to ride with my family!"
Aisha T., 13, New Albany
22q13 Deletion Syndrome
Aisha is a very adorable little girl who loves to ride her bike. Her family enjoys riding with her and she loves to show off her skills. She has outgrown her current bike and needs a new one so we can continue to ride together.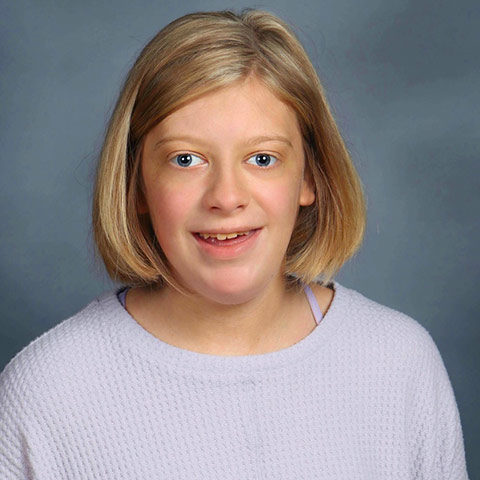 "It means so much to Phoebe to have an adaptive bicycle."
Phoebe C., 18, Powell
Autism, Epilepsy
This adaptive bike will help Phoebe a lot! It will serve as her mode of transportation since she cannot drive due to her disabilities.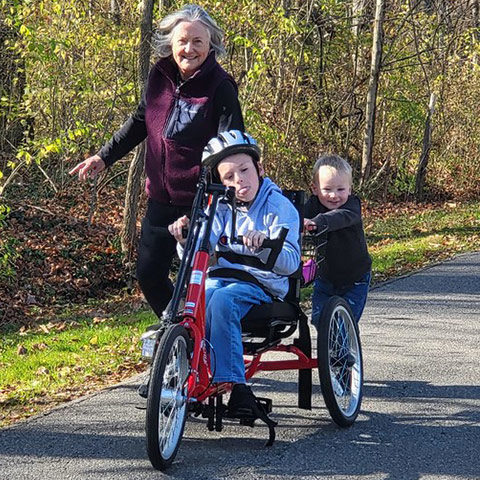 "I would appreciate a bike because I'll be able to ride a bike with my siblings and still work on my therapy at the same time."
Gage H., 14, Heath
Cerebral Palsy
My name is Gage and I am almost 14 years old. My favorite sport is football. When I moved to Heath in 2019, I got the opportunity to become the football manager for Heath Middle School. My mom has taught me that "can't" isn't to be used as a part of my words, and because of that I have grown so much. In just a few years, I have become completely "potty trained" and almost independent. When I'm not on the football field with my team, I like to sit outside to watch cars or go up and down the road with my siblings. I like to ride motorcycles with my mom, swim, and jump on the trampoline. My favorite colors are orange and blue. My favorite teams are Michigan and Heath. I'm very outgoing and can make friends almost everywhere I go. My Mimi calls me the middle school flirt because all the girls will talk to me and know me by name even if I don't know them.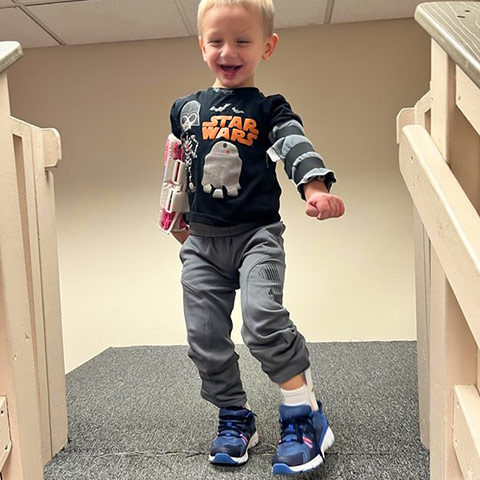 "This will be the coolest birthday gift ever!"
Jax R., 4, Bexley
Abnormal Brain Development, epilepsy, expressive/receptive language disorder
Jax has faced many obstacles lately. He has gone from a happy playing boy to one that has no interest in playing anymore. But he seems to enjoy riding the bike! The bike will help him interact with his sister who also just learned how to ride a bike! I am hoping this will help him want to interact and play more!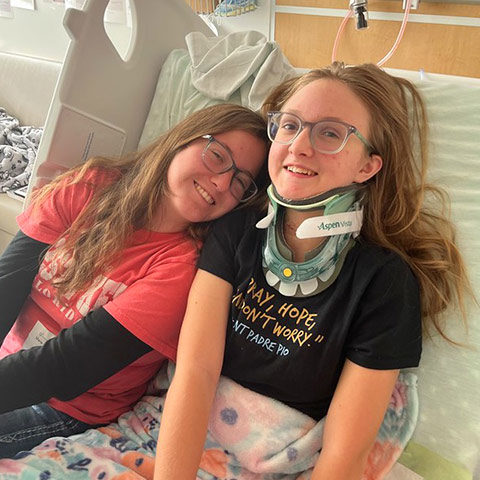 "I can't wait to be more active and go on bike rides with friends and family!"
Grace H., 13, Lancaster
Spinal cord injury/ tetraplegia
Grace is an active 13 year old who sustained a spinal cord injury while performing a skill at gymnastics team practice. She loves to be outside hiking, biking, and playing sports. Having a therapy bike will play a pivotal role in aiding her strength and recovery while simultaneously experiencing an outdoor activity with family and friends.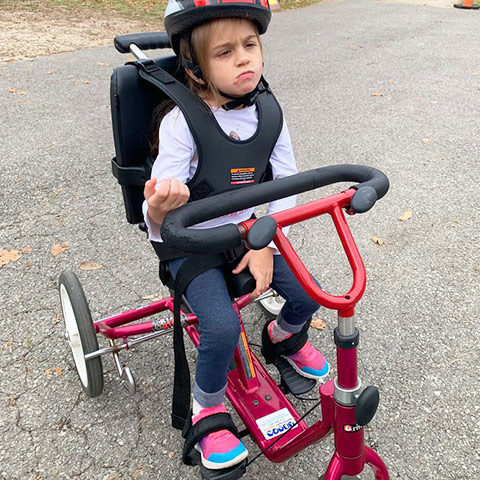 "Maddie is just the sweetest and would absolutely love a new bike."
Madelyn A., 8, Blacklick
CDKL5, Epilepsy
Maddie is an eight-year-old girl who was diagnosed with CDLK4 at four months old. Maddie is a loving kid who loves to spend time with her peers at school and who loves to give hugs and kisses. She also loves to play with her dog Zoey and her younger sister Alaina. Receiving an adaptive bike would allow her to be active, spend more time outside, and be able to spend more time with her sister doing things they love.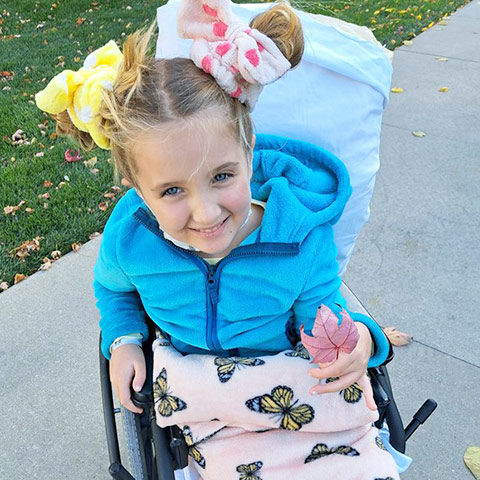 "This bike is everything for Amilea!"
Amilea L., 9, Mount Vernon
Brain Tumor
Amilea is a sweet, beautiful, and kind soul. Her smile lights up a room. She was voted the kindest student last year at school. Amilea always wants to be outside, she loves to play, swim, skip, jump, swing, ride a hoverboard, and be active with her friends. This diagnosis came as a shock and stopped us dead in our tracks. The thought of Amilea, 9 yrs old, not getting to do the same things other kids her age do, is a million stabs in the heart. Amilea got to ride the bike during her therapy and she loved it. She did lap after lap. Having this bike would be everything. It would allow Amilea to get the exercise and fresh air and also just enjoy being a "normal " kid!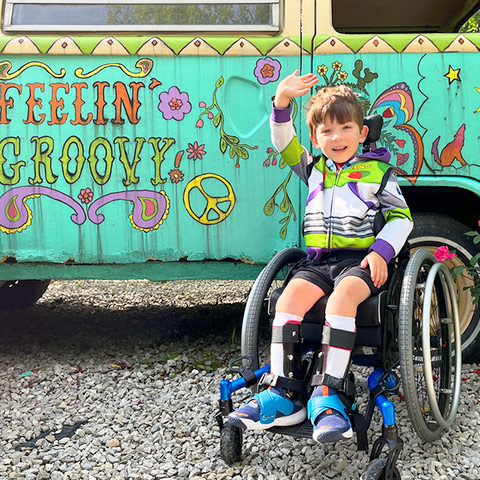 "Ryan is so full of love and would really enjoy a new bike."
Ryan W., 5, Lewis Center
Quadriplegic spastic cerebral palsy
Ryan is a happy, kind, and enthusiastic kid who loves life. He plays hockey and tee ball and loves to get outside on the playground to swing whenever the weather is nice. His favorite activities are playing super heroes and reading. Having a bike for him would mean he could spend more time outside in our neighborhood with the other kids his age, including chasing his younger sister around on her scooter!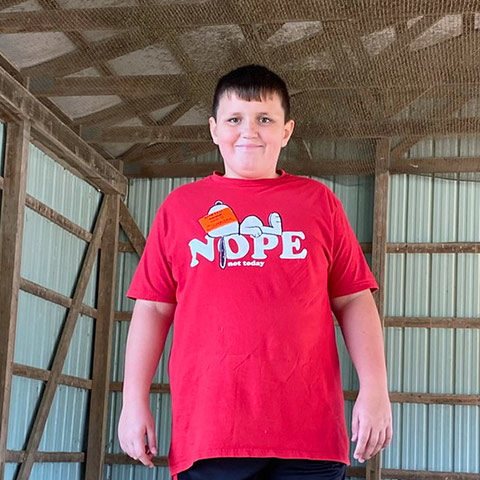 "Biking is fun and a healthy way to get around."
Blake M., 12, Richwood
Autism, Apraxia, ADD and sensory disorder
Blake is 12 and would like to start being a little more independent and would like to learn to ride a bike. We have tried therapy and bike courses to learn but seems he needs the extra stability of a 3 wheeled bike to have the extra balance he needs to ride a bike as regular bikes are not working for him.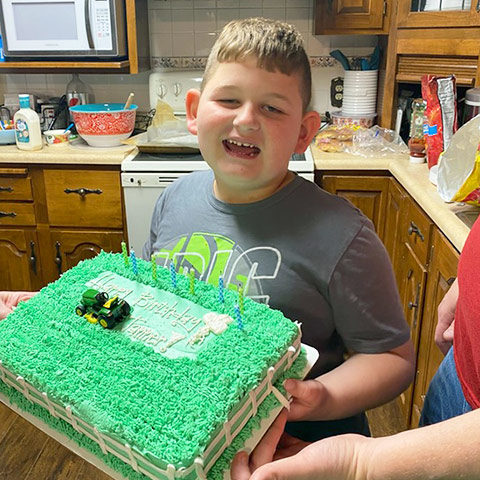 "It is always fun to ride a bike!"
Tanner S., 8, Piketon
Tuberous Sclerosis
Tanner loves being outside and watching his dad mow grass. He loves water and animals. He loves to go to the park but is limited in what he can do. He loves to shoot the basketball and go to church.
Give the gift of health, independence, and the freedom of mobility!
For more information, please contact Sharon Bucey, CEO
at sharon@adaptivesportsconnection.org or (630) 945-1787.