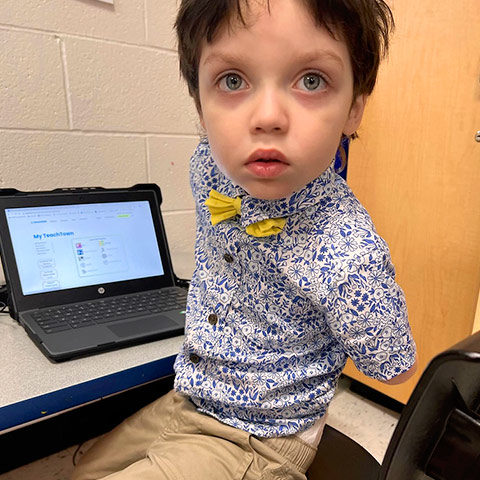 "We are so excited for him to have his own bike!"
River B., 4, Akron
Autism
He is a very busy four-year-old who never stops moving. He loves cars, trucks, books, running everywhere and very fast. He loves to be outside as much as possible. He doesn't like the word "no" at all and gets extremely upset if he can't get something done the way he wants. The bike would benefit him being outside and help his balance and coordination.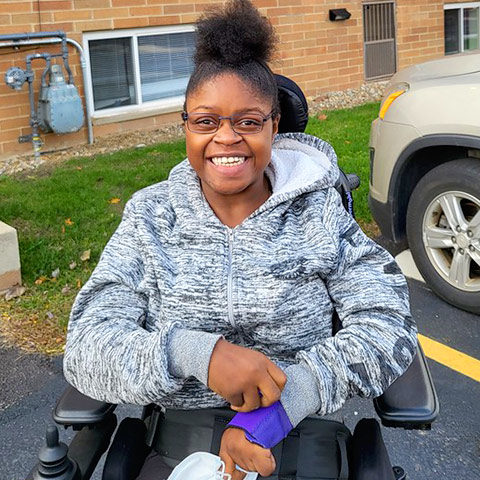 "Kyona will be all smiles once she gets her own bike."
Kyona W., 16, Kent
Cerebral Palsy
Kyona loves to be outside but there is little for her to do due to her condition. This adaptive bike would help her and our family enjoy being outside because we know Kyona will be all smiles and get a chance to really enjoy the outdoors. Kyona likes to joke around, talk to her friends and family on the phone and draw. Kyona's passion is to work and be as independent as she can.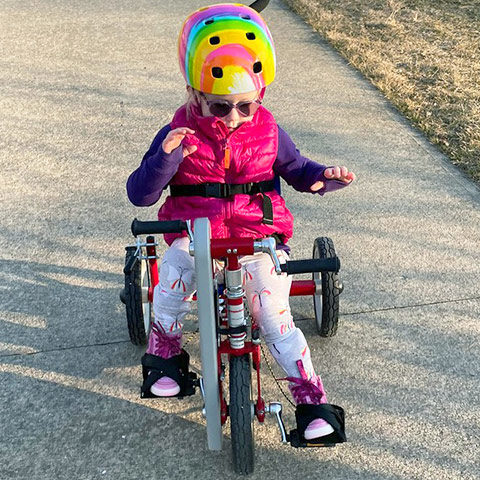 Ellie V., 6, Dublin
Spina Bifida
Ellie is a 6-year-old girl who loves pink, pretending, and being active.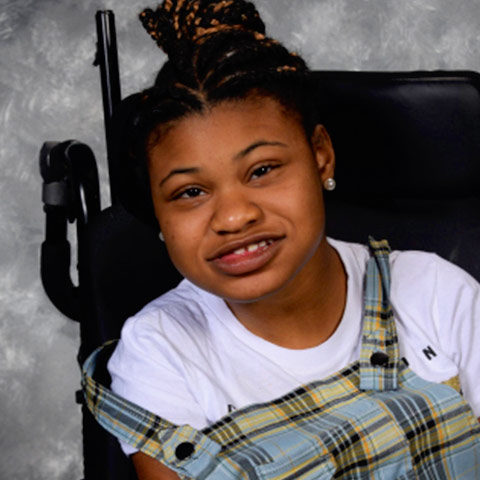 "I can't wait to have my own bike."
Anayla W., 18, Kent
Multiple Disabilities
Anayla is a nonverbal and intensive student in terms of her physical abilities. She loves being active in her stander and walker at school.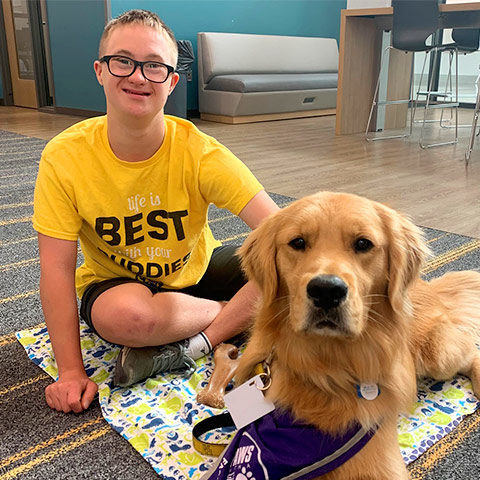 "I love riding a bike and would love my own."
AJ M., 16, Columbus
Down Syndrome
AJ is 16 and was always scared to get on a bike, even one with training wheels until he was given the opportunity to ride an adapted tricycle at school. AJ loved riding this bike! It provided him with much-needed exercise and a feeling of success, independence, and belonging with his peers. AJ would love to be able to ride a bike with his friends and his family at home. An adapted tricycle at home will help AJ to improve his strength and bilateral coordination skills. It will also allow him to work on safety awareness and to enjoy a leisure activity with friends.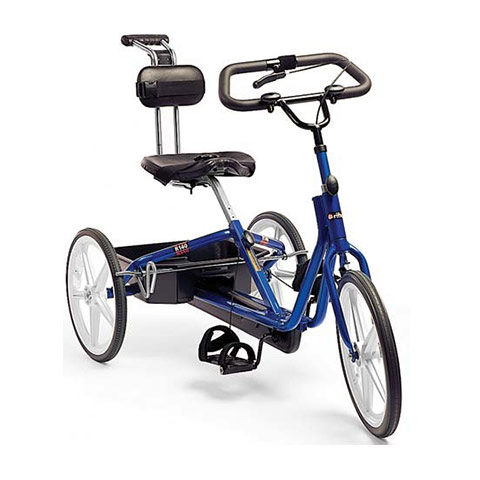 "A bike could offer Lucy independence she may not otherwise have access to."
Lucy C., 5, Pataskala
Cerebral Palsy
Lucy is a vibrant, social, loving five-year-old who enjoys life! She lights up any room she is in, and always has a "boo!" ready for whomever will play along. Lucy loves going to school, especially riding the school bus. She loves church, playing outside, and watching her sisters compete in various music and sporting events. Lucy's favorite things are music, books, Mickey Mouse, and Blue's Clues. Getting a bike would mean Lucy could spend more time outside enjoying the birds, trees, and waving at the passing cars. She would be able to participate in games with her older sisters. The bike would also allow Lucy the opportunity to get stronger, which would help promote independence in standing and walking, when not on her bike.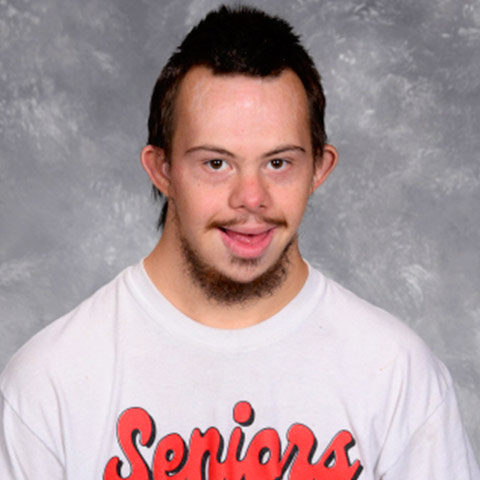 Jacob H., Kent
Multiple Disabilities
Wyatt is an energetic young man. Having a bike is something he and I can do together. Having CP can minimize things that he can do. He loves the outdoors. He loves computers. He's pretty social with a good sense of humor.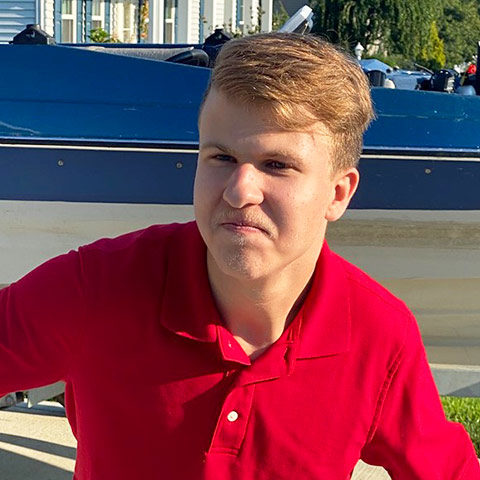 "I'm ready to get out, ride and explore what the world has to offer."
Wyatt T., 18, Bellville
Cerebral Palsy Left sided Hemi
Jacob had a trike a couple of years ago and absolutely loved it! He was fit and active with it and it was one of his favorite activities. His bike had been broken for a while now. This will be a great opportunity for him to get a bike and enjoy bike rides again.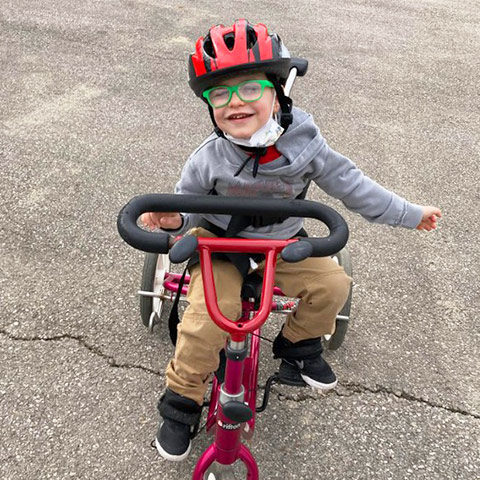 "I'm excited to go anywhere with my bike!"
Beckham K., 6, Reynoldsburg
Cerebral Palsy-Right Side affected, Chronic Kidney Disease
This bike would provide a way for Beckham to get out and experience the world alongside his typically developing brother but in a safe "made for him" way.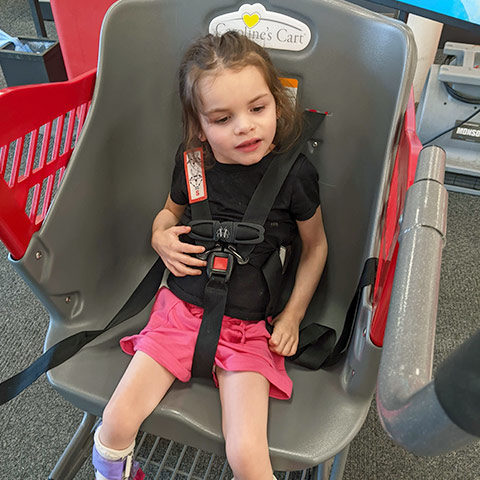 "Riding a bike is so fun!"
Shirley H., 6, Plain City
Cerebral Palsy
Shirley rides a Rifton trike at her school. Having one at home will give her the ability to exercise and strengthen her legs.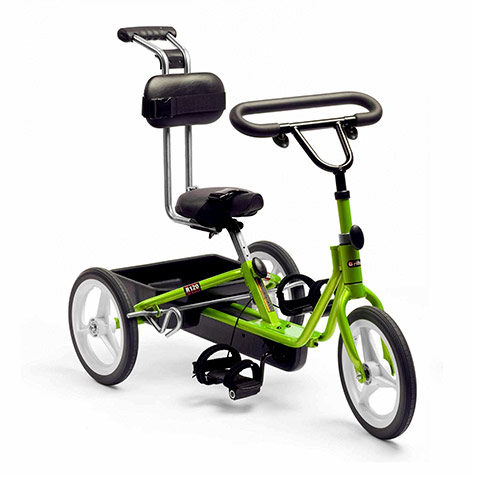 "This bike will help Aspen get a little more freedom to explore the community closer to home."
Aspen S., 5, Columbus
Down Syndrome
Aspen is a five-year-old boy who likes to ride outside and enjoys the outdoors more. This bike would help with hypotonia, cardiovascular fitness, and general play skills.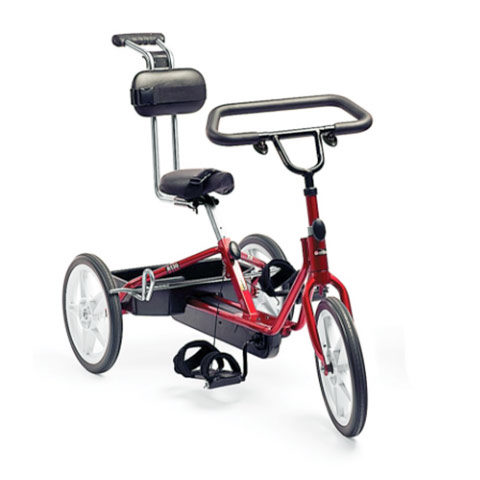 "This bike will give Zimeer an opportunity and motivation to get out and enjoy being out in the sun, ride freely and feel normal just like other kids."
Zimeer G., 6, Columbus
Autism
This will be Zimeer's first bike. We are so excited for him as this will help him increase his independence and gross motor skills.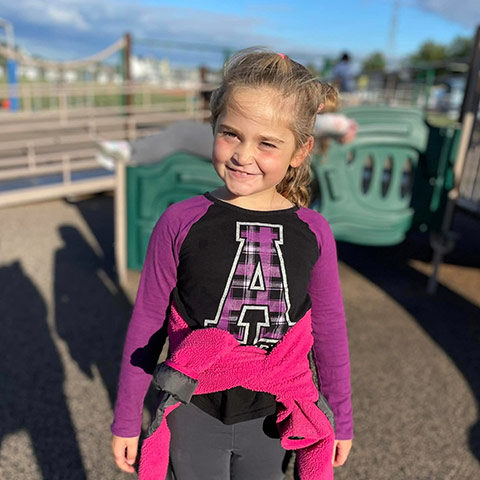 "This will be a dream come true to Lucy… to us."
Lucy J., 8, Delaware
Mitochondrial Complex 1 - NUBPL Disorder
Lucy is so much light and such a special little girl. She is almost 8 and she loves everything outside, playing with siblings, and baby dolls, playing house, coloring, writing, singing, and dancing. This bike would mean so much to her entire family as well as Lucy of course. We want her to live her best life for all the years we get to hug her and love her and be with her. We want her to be able to go on bike rides with her siblings and not feel left out. We appreciate this opportunity and are so hopeful that Lucy will be out there riding in the sunshine soon. Thank you so incredibly much!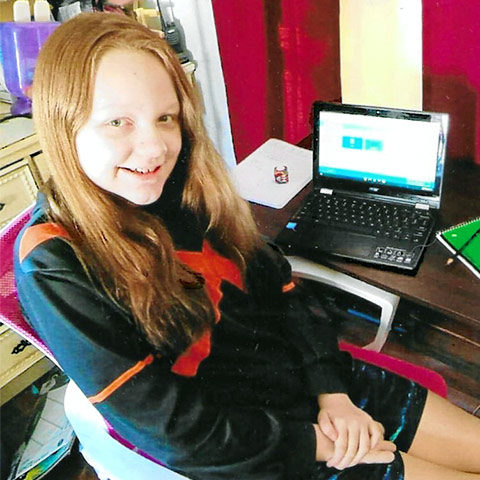 "Lily may suffer from CMT but she is a warrior."
Lily enjoys bike riding. Having a bike that is fitted to accommodate her disabilities would widen her vistas considerably. She might even meet other friends and ride independently with them once she is older. Lily wants to be able to do things that "normal" kids do. While she realizes that her condition may continue to affect her abilities, she is eager to experience as much of life as possible. She loves to draw anime characters and mushrooms. She swims like a fish and compliments everyone she meets. Lily Rose has two spunky dogs that she loves and takes care of. She could tell stories for days about them.
"Genevieve rode a bike like a pro. She outgrown her old bike and would love to get a new one."
Genevieve C., 13, Carroll
Pitt hopkins syndrome
Genevieve enjoys going to the park. She has done well with an adaptive bike in the past and has grown out of it and would love to get a new one so she can continue to participate. It also helps allow care providers to help get her out of the house to go on walks.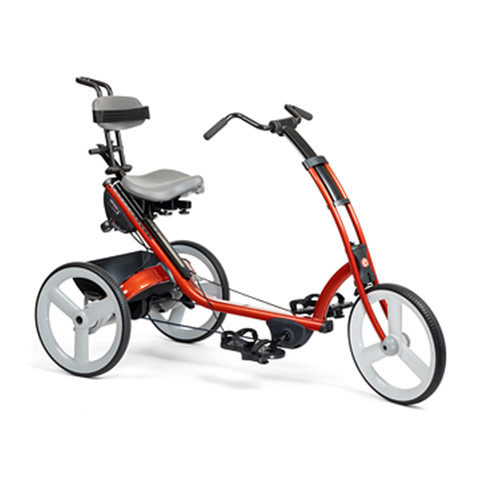 "Cycling with my family is the best!"
Ray W., 14, Rushville
Cerebral Palsy
Ray and his family love being outside and taking walks, swinging, and horseback riding. The adaptive bike would allow Ray to participate in bike riding with the rest of his family, as well as provide him with a fun way to exercise.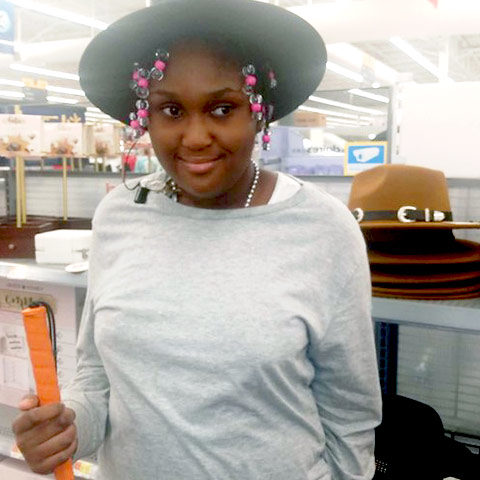 "Riding bikes is fun! I am sure I'll love it!"
Lillian T., 14, Columbus
Methylmalonic acidemia
Lillian is such as sweet young lady. She loves bowling and is always eager to go bowling. She rode an AM1420 during her therapy, and now, she wants to own a bike. We can't wait to see her go on bike rides with her sister!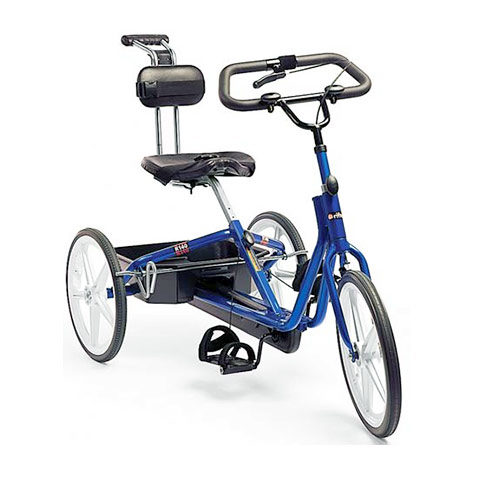 "It feels so good to ride and explore what the world has to offer."
Ilyas A., 16, Gahanna
Mild Intellectual Disability
Give the gift of health, independence, and the freedom of mobility!
For more information, please contact Sharon Bucey, CEO
at sharon@adaptivesportsconnection.org or (630) 945-1787.